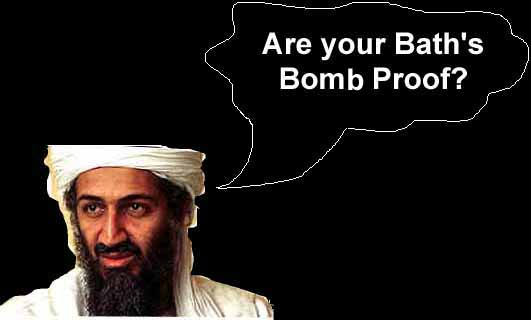 Last Update 24th February 2004 :-)
---
Old Sightings
Attached hopefully is the first sighting of a lonely tub in East Anglia off the B1414 Harwich to Clacton road. The tub wasn't there very long before the thoughtless farmer took it away.

A similar occurrence was of a tub abandoned on Harwich Beach following the annual raft racing extravaganza, but unfortunately I didn't have my camera to hand before it was whisked off by the beach cleaning brigade.
With apologies for the poor quality (shot from a moving car, you know..) here is a rare photo of the famous cinque bagnos of Italy, cornered againsta fence, in a field near the coast of north west Sardinia.

(I felt it prudent to photograph from a distance to avoid spooking them.......}

Richard
Crash Dummy sent in this picture of a bath-in-a-field that's been turned upside down. The correct technical wording for this sighting is called a "flipper". Also very interestingly you can see that she's has a step halfway up her lenght. Nice...

---

Crash Dummy told us.....
"Spotted the little beauty showing its bum in a field near Goosnargh, Preston.

I`ve spotted loads but just been out last weekend and bought a digi camera just for spotting!

Hope to get some more shots soon.
here is a bath from a field in sardegna, south of Stintino.
there are other baths that are in fields here. however, many are used by farmers as troughs.
these should not count for your page. Nor should baths on motorcycles - its all wrong.

I will send you other pictures of baths in fields in the spirit of your

first bath.

Ciao,

Victoria
BATH FARMING !!!!!

It's not big, it's not clever, it's not right !!!!!
Here we see an example of Mr. Bath being kept with his fellow kind behind electric an electric fence. Christ what's the world coming too ?

---


A rare sight! possibly a family group, trapped behind an electric fence in Essex.
Regards,

J A Meyn.

(For M&B Marquees)
---
Older examples of Mr. Tub..............
HOLD EVERYTHING

The first religious sighting has been sent in by Mike Hopwood. Mike told us "

Not sure if the item in the photo counts as a bath, but it's pretty if nothing else?? This 'bath' is behind St. Benets abbey on the Norfolk Broads. Can't be seen from the River (Bure), so you have to moor up and get out.

Leave it with you??

Mike Hopwood, Chester
What the hell is going on here. Mr tub has been "attached" to a bike, and is not looking to happy about it all (poor bugger..). This amazing photo was sent in by Rob Robinson who said :

I enclose an attachment from Northampton, I think you'll find it interesting. I myself am from Abergavenny and would not dream of putting a "tub" through such hardship.
Just look at this fine example of a bath taking time out to reflect on the changing weather and current international politico's. She was sent in by one of our regulars Tom was said on the sighting:

Hi it's Tom from Liverpool again ( not in the Ford Anglia ! )

Caught this beauty sunning itself on the banks of the river Rothay near Keswick in Cumbria after spending the whole day walking and bath-spotting ( minus the Anorak ! ) with my girlfriend Maureen who spotted the little blighter even as she was driving!
Sometimes a photo comes in that says more then words can say. This was sent in by Mike Sutcliffe, who said:

I attach a picture taken this summer on the Isle of Skye, as you will see the timid little thing was attempting to hide in the corner of a field obviously overawed by the vastness of it's surroundings. It took some doing to get the photo as every time a stray Haggis called from the hills the bath tried to hide further down in the long grass.
I'm lost for words. Glen sent in the following. I'll let you make your own minds up on this :-) Thanks Glen..

"Hi,

Nice web site - I have attached a photo of our gardener - William Turnbull, who has converted an old bath into a wheel-barrow that is now a mobile bath that can visit any lonely baths that are stuck in a field.

Regards

Glen D Turner"
From North Of The Border

From David Flack

"Whilst on Holiday near Cape Wrath in Scotland last week I spotted this juvenile learning to hide. By using veloceraptor hunting techniques I was able to get this snap before it was even aware of my presence.

David"
AMAZING

Another submission to the tub gallery by Dr. Tap's of Manchester. Not sure what's she's up to but it looks fun. MMMMmmm "cling film" ;-)
Hop on-baby !!!

Our very own Tim Vickerstaff spotted this "hill Climber" in Leekbrook, near Leek, in Staffordshire. She's a bit shy, but t Tim got her on her good side :-)

Thanks Tim
Neil Hempstead Wrote in ...

"As promised a few weeks ago I attach the two double headers in adjacent fields close to my home (which is not far from you in Maesycwmmer). I tried to find out why in 'baths5' one of the baths is upside down, but this is being kept a closely guarded secret by the farmer. Note also the very efficient water supply (constant, from a spring) via the big black pipe in 'baths1'. Have spotted another b.i.a.f. across the valley in Cefn Hengoed but keep forgetting to take my camera with me.

PS do plastic baths count?"

Good question Tim, O YES. We do hold hands with the plastic variety :-)

Bath 1 Below

Bath 5 Below
| | |
| --- | --- |
| | This fine example was sent in by Marcus romer. He told us "we caught this little blighter sunning it self next to a fence in a place called Pomeroy nr Buxton." . Thanks for the pic Marcus. See his site at www.mobile2call.co.uk |
MMmmmmm. This classic "Twin" picture was sent in by Peter Robinson (Postman), and he said "How's this for a double whammy......spotted whilst on my postal delivery round in Barnoldswick (Lancashire) this morning...!!!"

Thanks Pete. What a lovely pair !
..... and this one without doubt, is a thing of beauty. Look at the way the Tub has found a cool place to rest, under the shade of a bush. And yes SHE'S STILL GOT HER TAPS !

A big that you to John Bauer from www.timberhill.co.uk for these great photo's :-)
---
Arrrrrrr. A Great e-mail From Tez. He said "

Many thanks for bringing the delightful habit of tub-spotting to the wider community of the Internet. I decided to take the plunge and offer you some from north of the border. Here are four that I pass every day on my way to work each morning - I know the whereabouts of a few more and will try to snap them for your collection. This beautiful part of the country is alive with baths (and sinks) in fields - though it's not always easy to spot them and drive properly!

A link to my own website (http://www.iolaire.co.uk) would be appreciated.

Cheers
---
after travelling the length and breadth of the country...I have finally found a bath in a field and have adopted it as my own..as you would !! It was lying there feeling lost and lonely so I said hello and asked if it was ok to take some photos.

The location was just outside the delightful village of Ambleside in Cumbria .

Hope you enjoy it as much as I did

ps. I was in my Dad's 100E Anglia at the time!!!
---
Another interesting shot from one of our regulars "Tez". This time he has sent in an interesting picture of one of the brothers utilizing an old technique of self defence called "fill me full of old black crap, and no bugger will knick me....."

Well spotted Tez.....
---
HOLD EVERYTHING........
Bath-in-a-field has now gone international. Now not only have we hade sightings from the UK, but also in SPAIN :-)
Martin Dennis sent in the following sighting ....
Can I be the first to submit a European Bath in a field?

This specimen was spotted near Bolonia in South Western Spain just after hearing about your site on British Forces Radio broadcasting from Gibraltar!

She's hot and heavily guarded as you can see.
we need more.... send your sightings here.
[ Sign Our Guestbook] - [Read Our Guestbook ]
---
(C) www.bath-in-a-field.com P.Topping
(C) www.bath-in-a-field.co.uk P.Topping
---